The Northport Community Band, under the direction of Musical Director Donald M. Sherman, offers free concerts to Long Island music lovers at the Robert W. Krueger Bandstand overlooking beautiful Northport Harbor on five consecutive summer Thursday evenings.
Since its founding by Robert W. Krueger in 1959, over 700 people have played in the band, which has become a fixture in the community and grown to 85 members – multiple generations of amateur and professional musicians who practice for 2½ hours on Tuesdays and attract music lovers from all over Long Island (as well as their beach chairs, blankets and picnic dinners) to the Village Park each week for the group's 5 Thursday evening summer concerts. Truly a community effort, the band is comprised of past and present area students, teachers, retirees, merchants, doctors, lawyers, professional musicians, and music educators who volunteer their time to provide area residents with a relaxing and enjoyable way of passing balmy summer evenings in historic and picturesque Northport Village.
Each season features a theme that carries over from week to week and includes a blend of overtures, marches, light classics, and popular favorites. In addition to weekly features such as the Northport Chorale and various guest conductors and soloists, highlights frequently include the Jack Daniels Original Silver Cornet Band playing popular arrangements of old favorites. Pre-concert featured groups include the NCJO Big Band, Hornucopia and others. The group's signature piece is the "1812 Overture" traditionally played at the final concert, which features local high school brass students and the McAward Cannon.
As part of its mission to provide tuneful community service, the band performs a special sixth concert at the Northport Veterans Affairs Medical Center for the benefit of retired veterans and hospital staff.
More recently, a rain site at Northport High School was added, so our fans never have to miss a concert. We also livestream on Facebook to listeners across the country and around the world.
The members of the Northport Community Band and Musical Director Donald M. Sherman invite you to enjoy Americana at its best by bringing a lawn chair or blanket – maybe even a picnic dinner – to Northport Village Park. All concerts begin promptly at 8:30pm and last approximately 90 minutes. Check our website or sign up for text updates – in case of inclement weather, we will announce by 3pm and move to the Robert W. Krueger Center for the Performing Arts at Northport High School on Laurel Avenue and Elwood Road.
Join the Northport Community Band and enjoy the original "unplugged" music experience – find out why the best things in life are free!
For a list of current band members, please refer to our latest concert program.

The Northport Community Band is a proud member
of the Association of Concert Bands
NCB Board of Directors
Officers
President – Sue Epstein
Vice President – Bob Tallman
Secretary – Pam Dayton
Treasurer – Krisann Tallman
Members at Large
John Dayton
Deborah Sherman
Phil Voigt
Kelly Voigt
Donald M. Sherman – Musical Director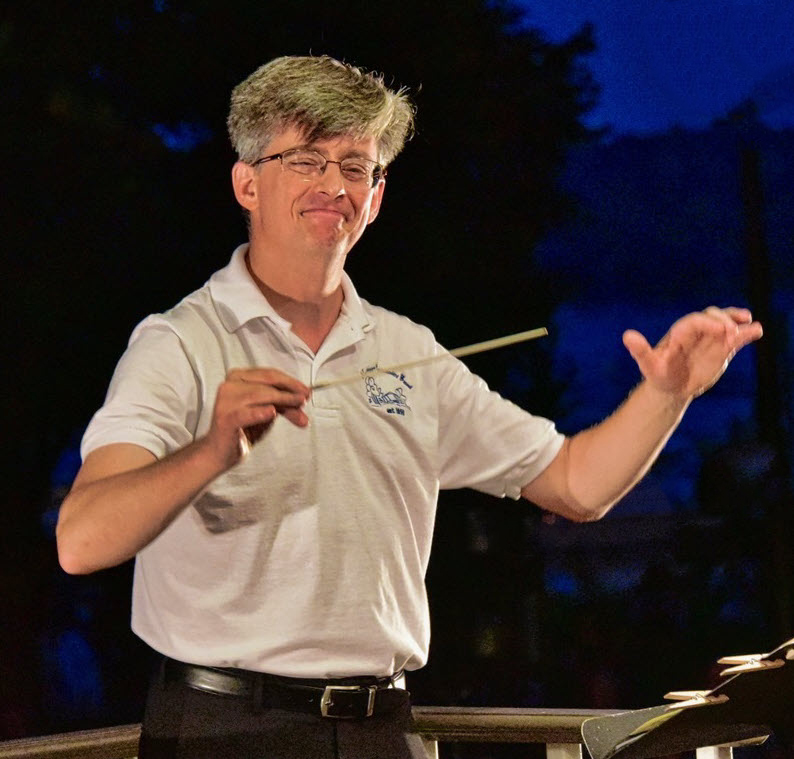 Conductor, teacher, euphoniumist and composer-arranger Don Sherman has made music with the Northport Community Band since 1978, beginning as a high school student in the euphonium section. He served as Associate Musical Director from 1986 – 2013, and in 2014 assumed the role of Musical Director, proudly continuing the 55-year tradition established by founder Robert W. Krueger.
In 2015 Mr. Sherman was named Assistant Conductor of the Atlantic Wind Symphony, leading several performances from Patchogue to Westhampton Beach. From 1992-2000 he was Music Director of the band at Fordham University (Bronx, NY), and in that position performed with the tenor Frank Patterson at Carnegie Hall, and at New York's St. Patrick's Cathedral. He has been a frequent guest conductor in the metro NY area, directing All-County Bands in Suffolk, Nassau, Rockland, and Monroe Counties.
Don taught instrumental music in the Northport-East Northport (NY) schools from 1984 to 2018, conducting concert bands and jazz bands at East Northport Middle School and Bellerose Avenue Elementary School. He served as Lead Teacher for the District's famed Summer Music Program from 1993 – 2011. Don has served on the Executive Board of the Suffolk County Music Educators Association (SCMEA) since 2013, co-chairing the annual Day of Tuba and Euphonium. He maintains an active studio teaching low brass lessons, and in 2019 was Low Brass Lead Teacher at Usdan Summer Camp for the Arts.
As a euphoniumist, Mr. Sherman has performed with the Atlantic Wind Symphony, Long Island Tuba Quartet, Seuffert Band, Queens Festival Band, Gramercy Brass of New York, Riverhead's No Doubt World Famous Monday Night Band, Old Bethpage Village Restoration Brass Band, and many others.
His compositions and arrangements, several of which have been published by Kendor Music and Cimarron Press, have been performed by the Long Island Tuba Quartet, the Northport Community Band, Northport Chorale, Seuffert Band, Gramercy Brass Band, Sam Pilafian and "Travelin' Light," Roger Behrend of the U. S. Navy Band, Fordham University Band and Choir, Gemini Concert Winds, and others. Kendor Master Repertoire, a collection of euphonium solos arranged by Don and edited by Carl Strommen was published in 2013; a second volume, Kendor Debut Solos, was released in Fall 2015. Don also contributed to Kendor Recital Solos vol. 2 in 2017.
Mr. Sherman is a graduate of Ithaca College, with a Bachelor of Music Degree in Music Education and Composition, and a Master of Music Degree in Euphonium Performance. Teachers included David Unland for euphonium, Karel Husa and Dana Wilson for composition and Rodney Winther for conducting, while various master classes were taken with David Amram, Frank Battisti, John Corigliano, Toby Hanks, and others.
Don and his wife, flutist Deborah Littrell Sherman, live in East Northport, NY with their children Emily, Benjamin, and Gabriel.
Robert W. Krueger – Founder (1927-2013)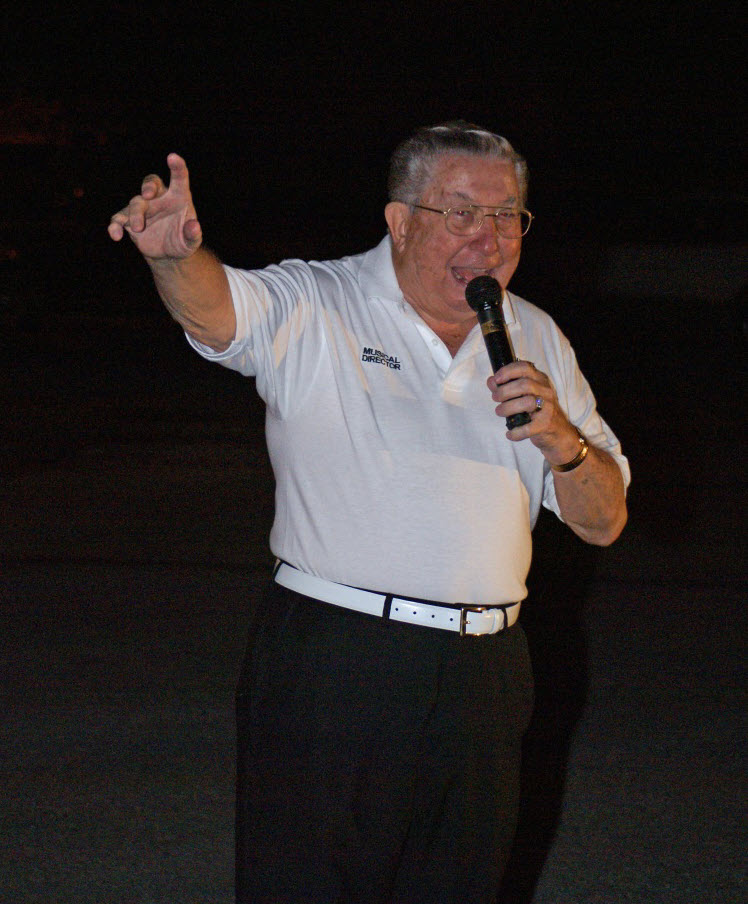 Robert W. Krueger was born in Adrian, Michigan. By the time he reached junior high school, Bob was taking private piano and cornet lessons. During high school, he played trumpet in dance bands throughout southern Michigan. After serving in the Air Force during World War II, he entered Northwestern University as a Music Education major and continued to play professionally in dance bands playing the Big Band music that was so popular during the 1930s and 1940s.
Krueger's first teaching position was as an instrumental music teacher for grades 4-12 in Manhasset. In 1957 he arrived in Northport to fill the newly created position of Director of Music Education. During the next 25 years, he and his talented staff developed a music program that is still being followed today, and Bob earned the respect of local, state, and national organizations for his contributions to school, community, and music education.
Upon his arrival in Northport, Bob learned that the bandstand beautifully situated in the Village Park adjacent to Northport Harbor had not been in use since at least World War II, and he vowed to bring music back to the park. In 1959 he and a group of 17 students and 3 adults practiced for 5 weekends, gave their first concert on a Sunday afternoon to entertain their families, friends and neighbors, and the Northport Community Band was born.
To celebrate the band's 40th anniversary and recognize Bob's contribution to the community, then Northport Village Mayor Roxanne Browning presented a proclamation designating July 1st as Robert W. Krueger Day and unveiled a monument dedicating the gazebo as the Robert W. Krueger Bandstand. When the band celebrated its 50th anniversary, then Mayor George Doll presented Bob with the first-ever key to Northport Village. In 2015, the newly renovated auditorium at Northport High School was rededicated as the Robert W. Krueger Center for the Performing Arts as a tribute to Bob's vision and legacy.